One of the UK's Leading Quartz Worktops Suppliers
Quartz is an engineered stone that's created using 93% quartz and 7% resin. By creating this mixture, quartz worktops become incredibly hardy, non-porous and able to withstand even the toughest of exposure.
These are just some of the qualities that makes quartz worktops so very popular in both kitchen and bathroom spaces.
Here at Total Tops, we're proud to say we're one of the UK's leading suppliers of quartz worktops, especially in the South East area.
The Perfect Worktop for Any Home
Not only do we realise just how amazing this material is, but we've seen first hand just how high-quality quartz works so well in the home.
We've seen its popularity increase hugely and on top of that, in the 20 years we've been working within this industry, we've seen first hand the colours and finishes available expand hugely.
No matter what style you're looking for, quartz has an option for you.
Areas We Cover
Why Are Quartz Worktops So Popular?
Quartz has become hugely popular for several reasons. To show you just why so many choose this material for their kitchen worktops and bathroom worktops, we've listed the benefits below.
 Quartz is consistent in colour, a huge draw for numerous clients. This is because quartz has been specially engineered, with aesthetics in mind. Unlike other natural stone worktops, quartz can provide solid colours, perfectly matched with other slabs of the same material ensuring a consistent look throughout.
Unlike other materials that may require sealing to achieve the same quality, quartz is entirely non-porous. This means that should you have a spillage of any kind, you needn't worry too much about stains. This makes it the ideal choice for families.
 Unlike materials such as wood, quartz is able to withstand quite high temperatures. This means that should you accidentally place a hot pan on your worktop, you won't necessarily damage the worktop itself. We do of course advise everyone use a heat pad or stand however heat resistance like this will inevitably help reduce the chance of accidental damage.
Being non-porous, quartz is naturally more hygienic as it prevents bacteria from being absorbed into the surface. With a simple wipe down, your quartz worktop can be kept clean enough to prepare food on making it the perfect kitchen worktop material.
Unlike wooden worktops and even granite, quartz worktops require no maintenance. That means no need to seal them annually; no extra added care necessary aside from a quick wipe with soapy water and a cloth. It's perfect for those who are not only looking for convenience but those on a slightly smaller budget as there aren't any maintenance costs.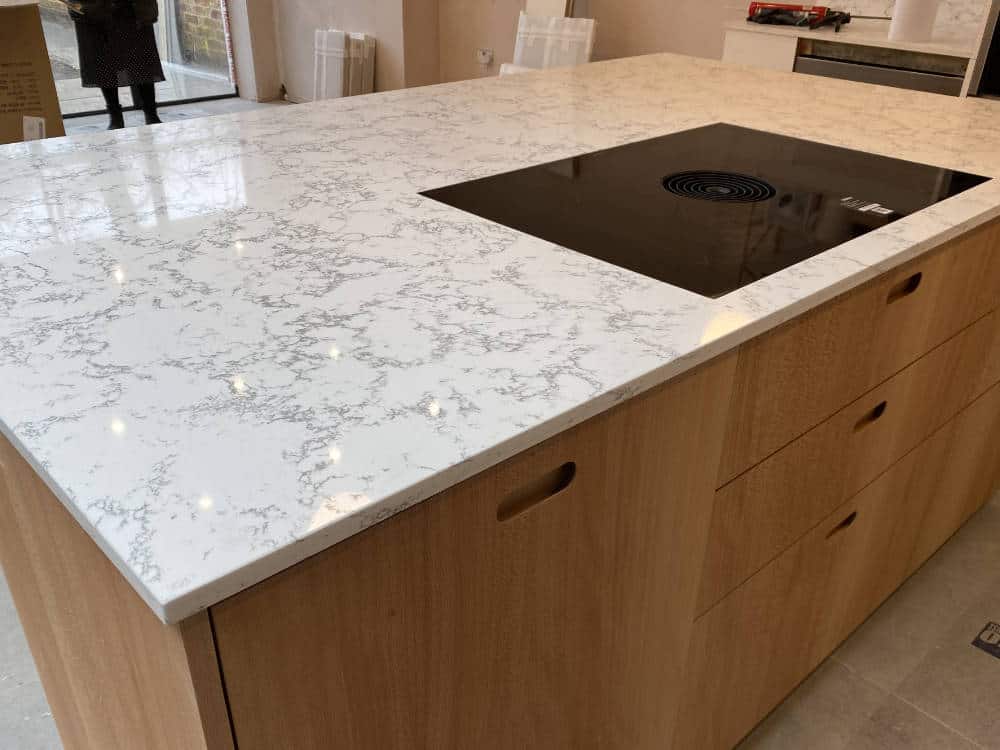 Call Today For Affordable, High-Quality Quartz Worktops
If you'd like to find out more about quartz worktops and how we can create the perfect quartz worktop in your kitchen or bathroom, please don't hesitate to contact us today.
Our team will be on hand to make the process as easy and stress free as possible while providing you with the best quality quartz worktop at some of the most affordable prices out there.
Enough talk, let's build something together